At SprinkLawn Irrigation, we use only the highest quality parts and materials when completing and maintaining projects of any size
Rachio Smart WiFi Controller
The ultimate sprinkler controller is at hand.  Rachio Smart Sprinkler Controller gives you control of your sprinklers right from your smart phone, tablet, or computer.  Rachio turns your local forecasts, soil and plant types, sun exposure and more into a customized watering schedule that saves you water and money.  Receive alerts when Rachio steps in to adjust schedules for rain, snow or seasonal changes.
Auto adjust with Weather Intelligence ™.  Waters automatically based on past, present and future weather, plus seasonal adjustments. No need to worry about updating schedules.

Never water in the rain.  Rachio connects to a network of thousands of weather stations to get the latest weather.

Proactive rain skipping.  Automatically skips watering due to forecasted rain, instead of just reacting to real-time rain.

Cold weather delays.  Automatically skips watering due to low temperatures

Works with Alexa.  Control watering with the power of your voice. Use more than 100 different voice commands to run zones, set rain skips and more.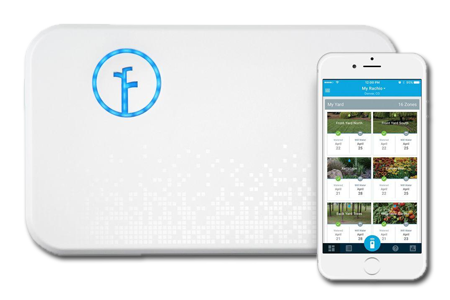 Rain Bird ESP-Me WiFi Compatible Modular Controller
With the ESP-Me's new WiFi capability, you can access, control and monitor your irrigation system from anywhere in the world.  Historical and real time Internet-based weather data can be used to adjust watering schedules automatically on a daily basis.
Easy to use: Rain Bird's legendary Extra Simple Programming makes tailoring a watering schedule for you unique landscape foolproof

Smart Wifi Connectivity: Internet-based weather data adjusts irrigation schedules on a daily basis for up to 30% water savings.

Easy to expand: Expandable to 22 zones, the ESP-Me WiFi Compatible Modular Controller can easily accommodate any future landscape needs.
Rain Bird 5000 Series Rotor
Relax with the knowledge your landscape is being water by reliable 5000 series rotors and industry-leading Rain Curtain nozzle technology.  5000 series rotors are engineered to deliver a uniformity and a consistently green lawn with less water.
Rain Curtain Nozzles: Large water droplets and gentle close-in watering ensure efficient coverage and green grass

Durable Leak-Free Seal: An oversized seal prevents puddling and guarantees consistent pop-up and retraction for years.

Proven Performance and Reliability:  a 14 year history of proven performance and reliability tested in millions of installations.
Rain Bird 1800 Series Spray Heads
Chosen for its reliability, heavy-duty materials and versatility, the 1800 Series has first-rate quality built in for reliable operation and long life.  Their superior components and features make them the spray heads of choice for a wide variety of applications.
Unmatched Reliability: Constructed of time-proven UV-resistant plastic and corrosion resistant stainless steel parts, assuring long product life.

Water Saving Features:  Available options like a Seal-A-Matic check valve and a patented PRS in-stem pressure regulator increase efficiency by eliminating wasted water.
Rain Bird DV Series Irrigation Control Valve
Its consistent, problem-free performance means you can spend less time thinking about your irrigation system and more time enjoying your landscape.
Premium: The first choice of industry leaders worldwide is also a great choice for your landscape.

Reliable: Over 20 years of proven performance of peace of mind.

Versatile: Many models to choose from to meet your specific irrigation needs.
Rain Bird WR2 Series Wireless/Freeze Sensors
Rain sensors are becoming a "must have" component for irrigations systems.  Reliable signal transmission and other innovations deliver superior responsiveness to weather conditions.
Saves Water: Independent testing shows a Rain Sensor offers 30-35% water savings over basic irrigation controllers.

Prevent Over-watering: Turns the irrigation system off during rain and low temperatures.  Sensor prevents it from turning back on until irrigation is needed.

Years of Trouble-free Service:  UV protected plastics and internal antennas ensure reliable operation.